FLEX SHOOTER BALLHEADS
THE WORLD'S MOST ADVANCED BALLHEAD!
FlexShooter is a line of innovative and patented spring-counterbalanced double ball heads, with many exciting features to help photographers on many fields around the world.
TOP FEATURES OF THE FLEXSHOTER
The innovative and patented spring-counterbalanced double ball heads are packed with many innovative features to help photographers all arround the world:
RANGE OF INNOVATIVE DOUBLE BALL HEADS
The innovative ballheads are available in different sizes to response high requerements of all kind of photographers. FlexShooter Pro, Pro Lever, both in standard and in the black edition, and FlexShooter Mini Arca are all part of our family.
The Flexshooter ballheads are a perfect solution for photographing from a photohide; a Gimbal head can be tricky because of its large turning radius: you quickly hit the tent fabric which disturbs birds and wildlife. The Flexshooter ballheads have some big advantageS above 'normal' ballheads:
Adjustable friction for both balls.
Precision bubble level.
Built-in spring balance for tilt movement.
Your telephoto lens does not tip over or fall sideways, with this system your lens stays in the position it is in!
The head is very 'low profile' which is great for low angle shooting (like in our Falco hides).
Usable for long telephoto lenses as well as for landscape or macro photography.
Universal Arca Swiss-style two-way clamp.
FLEXSHOOTER BALANCES ANY LENS FROM 6mm TO 600mm!
Some of the benefits of the patented FlexShooter spring counter-balance double ball heads:
WEIGHTLESS
The next generation heads utilise the patented spring counter-balance system to hold long lenses and a wide range of kit weightlessly in place. It ensures that your heavy lens stays exactly where you leave it as long as it's balanced correctly.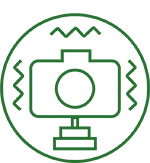 NO IMAGE CREEP
No more locking up your tripod head and having your precious composition vanish out of the frame. The patented technology ensures no more image creep as we value your compositions
PRECISION ENGINEERED
All of these products are a combination of passion for manufacturing with the love of solving mechanical problems. All of these heads are precision engineered in Europe.