FlexShooter Pro Lever
SKU:

FSPL
The FlexShooter Pro lever is a perfect solution for photographing from a photohide.
For medium and large sized lenses and cameras with a max load of 45KG, the PRO has spring counter balance, no image creep, the double ball system for simple horizon levelling and Arca Swiss mount.

Advantages of ordering from us
✔ Ordered before 3 pm, shipped the same day.
✔ 2-year warranty on your photo hide.
✔ Free exchange within 30 days.
​✔ Safe buying and paying.
​✔ 14 days right of return.
​✔ Own parts & service department.

Plus and minus points
According to our photo hide specialist
+ Adjustable friction for both balls.
+ Built-in spring balance for tilt movement.
+ Your long lens does not tip over or fall sideways, it keeps it's position.
+ Usable for long telephoto lenses, landscape or macro photography.
+ Universal Arca Swiss-style two-way clamp.
+ Precision bubble level.
+ Very 'low profile' which is great for low angle shooting (like in Falco hides)

The only difference between the FlexShooter Pro Lever/Black Edition and the FlexShooter Pro/Black Edition is the lever or the small wheel for locking the foot.

flexshooter pro lever, perfect ballhead
The Flexshooter pro ballheads are a perfect solution for photographing from a photohide; a Gimbal head can be tricky because of its large turning radius: you quickly hit the tent fabric which disturbs birds and wildlife.
Some of the benefits of the patented FlexShooter spring counter-balance double ball heads:
WEIGHTLESS
The next generation heads utilise the patented spring counter-balance system to hold long lenses and a wide range of kit weightlessly in place. It ensures that your heavy lens stays exactly where you leave it as long as it's balanced correctly.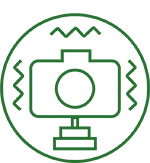 NO IMAGE CREEP
No more locking up your tripod head and having your precious composition vanish out of the frame. The patented technology ensures no more image creep as we value your compositions
PRECISION ENGINEERED
All of these products are a combination of passion for manufacturing with the love of solving mechanical problems. All of these heads are precision engineered in Europe.

At Buteo Photo Gear we are happy to give you our personal advice, so if you want to buy a photohide and need some help, please use our chat or send us an e-mail.
Buteo Photo Gear: Your Photo Hide Specialist
| Specification | Description |
| --- | --- |
| Material | anodized aircraft grade aluminium alloy |
| Weight | 0,68 kg |
| inner ball diameter | 45 mm |
| outer ball diameter | 66 mm |
| base diameter | 63 mm |
| tripod thread | 3/8 inch |
| maximum load | 45 kg |